Your life has to be deeply meaningless if you are making up stories about being attacked simply because a superhero movie is unapologetically Black. This is the case for some Black Panther haters.
Ryan Coogler's Black Panther opened yesterday and the racists are on fire with some going as far to as making up lies that white people are being attacked at Black Panther screenings by Black people.
According to Vox, on the Tweets seen below on a person's account that has now been suspended, used a used a viral photo from January of a Swedish woman who was brutally attacked after resisting sexual assault.
Another one is actually a picture of a photo of Colbie Holderness, the ex-wife of former White House staffer Rob Porter, who resigned following accusations of domestic abuse.
"Went to the #BlackPanther premier tonight and my wife was assaulted. Three black women approached us and one said "This movie ain't for you white b****" and then attacked her. Security escorted us to the parking lot and we left. We just wanted to see a movie."
Take a look at this nonsense for yourself:
One idiot even used an image from the horror series The Walking Dead.
But here's the real deal: Black and brown folks are not thinking about white people when they go see Black Panther because The first of its kind superhero film has nothing to do with whiteness.
Nothing is going to stop the power of the Marvel film — Deadline.com is already reporting, "Disney/Marvel's Black Panther is now looking at the sixth best opening of all-time, based on 3-days, with an estimated $185.4M per industry projections and a mind-blowing $212.1M over four days."
Black Panther is slaying and the results will be legendary.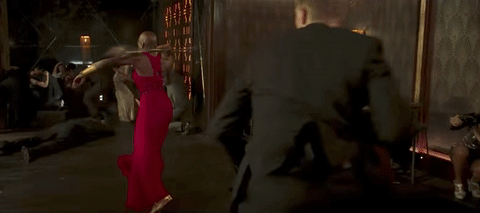 READ ALSO:
Serena Williams Hosts Surprise 'Black Panther' Screening For Black Girls
I Love Us For Real: Black People Are Rolling Up To Theaters To See 'Black Panther' Like This'
We Are Wakanda: 5 Things You Didn't Know About Black Panther
Racists Post Images Of Battered Women To Claim They Were Attacked By 'Black Panther' Fans  was originally published on newsone.com
More from Hello Beautiful