It may be the most recent addition to the hugely popular franchise, but VH1's Love & Hip Hop Hollywood definitely holds its own against the other cities in the franchise. Led by VH1 mainstay Ray J and music artists Teairra Mari, Omarion, Lil Fizz and Soulja Boy, LHHH had the star power to lure viewers in, but it was the juicy reality TV drama that helped catapult its popularity to rival the success of the Atlanta and New York casts.
With the fourth season premiering tonight, let's take a look back at some of the most O-M-G moments that had all of social media talking and you gossiping.
Season 1:
Teairra Mari Hits The Wrong Note
The bulk of season one of Love & Hip Hop Hollywood focused on the complicated relationship between former lovers Ray J and Teairra Mari, with many fights and showdowns between the two. However, one of Teairra's most unforgettable moments was when she attempted to make her musical comeback and failed miserably. This resulted in a verbal and physical smack down between Teairra and producer Sincere, after he was highly-critical of not only her performance, but also her weight. It's safe to say, Teairra lives by the code of "anyone can get it."
Moniece Drags Amanda…Literally
One of the most polarizing figures on the LHHH cast is none other than Moniece Slaughter, mother of former B2K member Lil Fizz's son and all around magnet for drama. In season one, Fizz was dating Amanda, who has a messy relationship with Moniece due to comments she made about her as a mother. The drama between the two comes to a head, or a dragging if you will, when the two ladies meet up and things get physical. In the blink of an eye, Moniece goes from oddly calm, to dragging Amanda across the table by her hair…without breaking a sweat.
Hazel-E Gets Her Song Repossessed 
The situationship between rapper Hazel-E and producer Yung Berg was often painful to watch, especially when Berg started to officially date video vixen Masika, something he never did with Hazel. After a handful of arguments between Hazel and Berg, things got nasty and humiliating for Hazel when she showed up to Berg's birthday party. While mingling with guests, Hazel is flabbergasted to hear Masika on stage singing the exact same song that Berg had recorded and given to her weeks earlier. Determined to keep her head up, Hazel starts rapping along to the song with her lyrics to drown Masika out…making things even more awkward.
Ray J Pushes Princess In The Pool
Hands down, the most talked about and jaw-dropping moment from season one of LHHH is the one that involves a pool…yeah, that moment. Ray J and his now-wife Princess Love were discussing their rocky relationship over dinner by the pool in his backyard when things went left. It happened so quickly, but after several accusations and insults were hurled and food was thrown, the next thing you know Ray J pushes a fully clothed Princess into the pool. The instantly memed moment is still one of the most memorable scenes from the entire series.
Season 2:
Princess Breaks Up The Stripper Party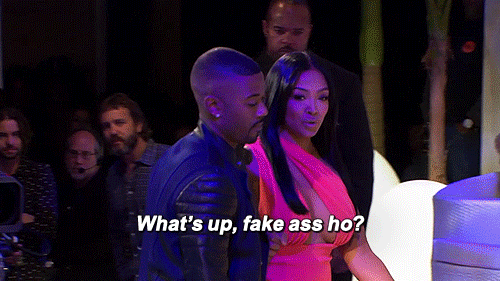 The second season of LHHH starts off with a bang, courtesy of Ray J and his affinity for turning up at all times. Princess and Ray J are going through a rough patch and on the verge of breaking up, when she decides to pop-up at the apartment she told him to get rid of and finds strippers galore…complete with a pole in the middle of the room. Princess is definitely mad at Ray, but she also lays hands on a stripper or two in the process of catching him in the act.
Welcome Miles & Milan
LHHH made history by being the first show from the franchise to feature an out, gay, black couple, when music producer Milan Christopher and aspiring rapper Miles Brock were introduced to the cast. Their relationship drama was real and dominated the entire second season due to Miles still being closeted and Milan growing frustrated with keeping their relationship a secret. They were breaking up and making up all season, with mutual BFF Hazel-E stuck in the middle along with Miles' longtime girlfriend Amber. Their representation on the show was ground-breaking and begs the question if we will ever see another gay couple in the future.
Brandi Chases Down Max
In season two lots of new faces showed up and one of the most memorable was Brandi Boyd. Although small in stature, Brandi has a very short fuse and goes from zero to 100 real quick! She's had many altercations with cast members, but her most unforgettable moments are those involving her husband, producer Max Lux. When she grows tired of Max not wearing his wedding ring, they fight and he throws the ring in the bushes. This prompts Brandi to chase him down, barefoot, in the middle of the street and stand in front of his car, forcing him to drive in reverse to leave.
Teairra & Princess Go In
Confusing both viewers and Ray J, season two begins with a newfound relationship between sworn enemies Tearirra and Princess. The new besties don't last long however, as Princess accuses Tearirra of being two-faced and trying to ruin her relationship with Ray. After brewing drama, things come to a head with most of the female cast present when Teairra and Princess finally have a physical showdown. Of course, there are tons of insults from both sides, but when the two repeatedly throw hands after continuously being separated, you know there's no turning back.
Amber Learns The Truth
When Miles finally decided to come out and make his relationship with Milan public, he knew that the first thing he had to do was tell his longtime girlfriend Amber about his sexuality…and it was devastating. Viewers expected her reaction to be emotional, but few could have predicted just how gut-wrenching it was when she finally learned the truth. Amber cries so hysterically she can barely speak, as she rolls on the ground screaming for her mother. It was the moment that had being coming all season and it came with a bang.
Season 3:
Brandi Likes To Jump…On Top Of Cars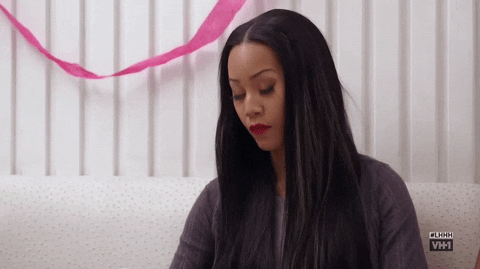 It seems that Brandi is always finding her way in drama-filled situations that are both hilarious and jaw-dropping. One of her most unforgettable moments occurred when she took almost $30,000 that was intended for her son and used it to buy a boutique instead. When her husband Max found out he was furious, but it's Brandi's over-the-top reaction to his anger that is pure reality TV gold. As Max storms out of the boutique and gets inside his car, Brandi chases after him and jumps on the hood of the car so that he won't leave…you can't make this up! This all happens in the middle of the street with people attempting to get Brandi down as she screams for her husband.
Safaree Wants Them Both 
Arguably the most high-profile addition to LHHH's third season was producer, songwriter and Nicki Minaj's ex Safaree Samuels. He immediately began a relationship with Miss Nikki Baby, but it's what he didn't know about her that threw him for a loop. When Nikki reveals that Safaree is not the only one she's dating he assumes it's another guy, but to his surprise it's model Rosa Acosta. Safaree walks in on them kissing and instead of getting mad…he says he wants them both! Neither lady is feeling the proposition, but the reaction on his face the moment he finds out is priceless.
Moniece Airs It Out
All during the third season, Moniece, Princess and Brandi were beefing something serious and the turning point was when Moniece decided to use her single release party to air dirty laundry about Brandi and Max's marriage, complete with explosive cheating allegations. Moniece invites them both under the guise of reconciliation, but that's clearly not the case. Princess turns up for her friend Brandi, while Brandi plays it unusually calm, but she attempts to get even more disastrous revenge at a later date.
Stay tuned for the season four premiere of LHHH tonight on VH1 at 8pm!
RELATED STORIES:
Keyshia Cole & Booby Gibson Are Still Living Together
Teairra Mari's Friends Stage An Intervention In Juicy 'Love & Hip Hop Hollywood Super Trailer