Insecure is a TV show that provides water cooler talk for days! One of the most common themes of the show has been accountability, or lack thereof. However, on tonight's season finale, there was some taken, which means these characters, who have become friends in our heads, are growing. Wait, some of these characters are growing. Insecure wouldn't be Insecure without questionable life choices and regressions, but hold that thought and let's dive into this recap.
Lawrence and his new coworker-boo, Aparna, are getting along well. Their situationship is still undefined, but they're definitely smashing. But before too soon, their thing starts to spill over into work, which means messiness is afoot. Basically, Arpana has an ex coworker-boo, named Colin, who is still at the job. She says they only hooked up a couple of times while drunk and that it never meant anything (and it's believable because Aparna is generally aloof), but that's enough to get Lawrence feeling insecure–no pun intended. Things come to a head later on while Lawrence and Arpana are on a date. They're sitting in Lawrence's car, about to head into their venue, but Lawrence snaps when Arpana is distracted and sending tons of text messages to someone and laughing. He makes a snippy comment about "Colin not being that funny," and it all falls down. Arpana was actually texting her sister and gets pissed because she doesn't want to do the jealousy ish. Lawrence claims he doesn't want to be lied to and Arpana, feeling insulted, makes her grand exit.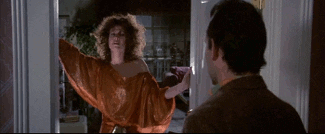 Molly has seemingly picked up the pieces of her life again. She is interviewing with other firms, and even receiving offers, thanks to support from her colleague. You know the colleague–it's the chubby man with glasses who probably likes her and will probably treat her right, but he's physically not Molly's type because you know she's shallow and lowkey likes to be treated like crap.
Molly, surprises us for a minute, though. We find out that she's back in therapy and seemingly not indulging Dro's "I miss you" texts. She also gives her colleague a shot, kind of, by turning another one of his pep talk sessions at her house into a sex session. She then tells her friends about it without really going into detail so it's not clear whether the D was good or not or whether this could be a thing or not. Hold that thought though.
Issa seems to have put her "hoetation" on hold, but she's still struggling at work and she has to move in with her annoying brother because of the rent increase, so she has a farewell yard sale. For some reason she feels compelled to call Lawrence to tell him she's moving and that she has a box of his old stuff and that he can have the couch. At first you want to bust a loooong West Indian-style tooth kiss like so…
But she gives him a time frame to drop by where she won't actually be there. Yet this show wouldn't be what it is if they didn't actually run into each other. Issa heads back to her place to do a final walk through and give the landlord her key. Apparently, Lawrence stayed longer than he needed to so they come face to face and actually have a mature conversation. Lawrence says he didn't like the way they ended things and admits to feeling like "he's messing everything up." He also apologizes to Issa for not being who she expected him to be and who he expected himself to be. Issa apologizes to Lawrence for everything, including the cheating incident, and he actually receives the message this time. Issa adds that didn't know how to handle the situation when he was going through what he was going through, says that cheating on him is the worst thing she has ever done and that she wishes she could convince him that it was about him. They both admit to still loving each other, but it seems like they silently agree to keep the reconstruction of their relationship platonic. They embrace and resolve the animosity between them. Issa fantasizes what they could have been as a couple–you know–marriage, kids, etc, but that's not reality. Lawrence says what feels like his final goodbye and later on even re-friends her on Facebook (because he was being petty by blocking her), but their future is still unclear. This could really be the end, or the lines could still be blurred. At least there's accountability though. And if they do eventually get back together, they can do so on a clean slate.
Only season 3 will tell.
And now back to Molly. It always seems like she wants to do better, but nah. Her firm finds out she has been taking interviews at other firms so they offer her the "rising star award," you know, on some, employee-of-the-month-hang-your-plaque-on-the-wall-BS. Knowing dang well she deserves a raise!
It's not clear if Molly is going to woman-up and leave that job, but it doesn't seem like it. And if that's not bad enough, she ends up entertaining Dro again. In the ending montage of the episode, she answers the door for him in sexy lingerie because self-sabotage is still her MO. She doesn't want to make progress. Not everyone can have hella clarity. Being basic is a comfortable place for Molly and that's just what it is. 
Finally, Issa, fed up with her annoying brother, heads to crash at Daniel's house (she won't stay at Molly's place because they'd get on each other's nerves and would like to remain friends). Her infamous last words to Daniel are, "I'm sleeping on the couch." Issa says this with conviction, but we all know the deal.
Season 3 is about to be lit with more drama (especially when/if we finally find out whether Dro has been lying or not) and more suspect decisions. But Tiffany DuBois is pregnant so that should be fun.
RELATED POSTS
'Insecure' Recap: Issa Needs To Grow Up And Learn How To Throw Licks To The Ish
'Insecure' Recap: Molly Has The Regression We All Saw Coming
More from Hello Beautiful