LIKE HelloBeautiful On Facebook!
1. Beyonce's Hair Has A Mind All Its Own
There's so much to love about Beyonce, so in the midst of counting all the ways, I decided to give her highly coveted hair the spotlight.
From her signature hair flip on stage to her simply moving her golden tresses from her shoulder, I am obsessed with King Bey's mane. And after checking out her best hair moves, you will be too!
2. Do Not Try This At Home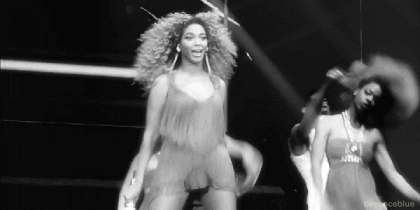 You'll more than likely end up in a neck brace and trying to reattach your tracks.
3. Beyonce's Hair Works It, Even When She Hulahoops
I know you're probably not looking at her hair right now, but challenge yourself. I know you can do it!
4. It's Contagious
Check out the background dancers showing off what they learned from Bey.
5. Golden Girl
I'm sure Beyonce's hair is where all her secret powers live. Look at these golden tresses!
6. About That One Pesky Curl…
Nevermind. It's perfect.
7. Even Beyonce's Hair Gets Excited
Wouldn't you too if you were this close to her?!
8. I Can't Stop Watching Bey Stroke Her Hair
How many times did you watch this one?
9. The Ponytail Toss
It wouldn't be an Ode to Bey's hair without a good old fashioned ponytail toss!
10. Her Curls Breathe
Look closely. You know you see it.