By now, you've probably seen countless reminders about the season two premiere of
Insecure
. You might be confused by terms like broken p*ssy or the ever-growing hashtag #LawrenceHive, unsure if you should be offended or supportive.
MUST READ: The Most Epic Quotes From 'Insecure' Season One
Years before Insecure became a fan favorite, Issa Rae created and starred in the webseries The Mis-Adventures of Awkward Black Girl, which provided the framework for the HBO series.
Allow us to explain why you should care and everything you've missed thus far, in Internet language — gifs.
The Beginning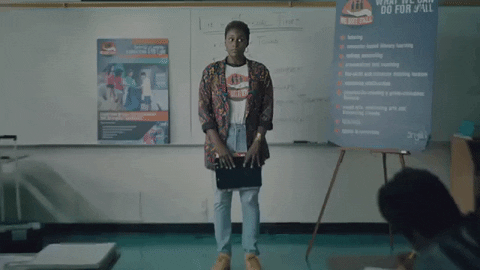 While most leading characters on TV have mastered the ability of hiding behind a facade, Issa Dee (Issa Rae) does not hide her flaws, she leans into them.
Meet Issa Dee, a worker at We Got Y'all. Rapper by night, youth leader by day. She lives with her unemployed boyfriend Lawrence, who like a lot of Black men his age, is at a crossroads in his life, stagnant and contemplating his next step. Issa is growing tired of their routine and a birthday gone bad leaves her questioning her relationship. Meanwhile, Issa's best friend Molly is dealing with her own single woman issues, prompting them to hit the town for a night out.
You Should Also Know
Molly and Issa are #friendshipgoals.
Explaining Broken Pussy
Issa and Molly's ladies night out took an unexpected turn when Issa reconnected with her ex Daniel, who also happened to be at the spot. Sparks flew and Issa, seeking some much-needed adventure, allowed Daniel to peer pressure her into freestyling.
(Combine the right amounts of attention from a fine ass dude who's not your boyfriend, the need for spontaneity and hidden bars and boom). Issa found herself rapping about her friend Molly's dating life and umm…broken p*ssy.
The Shakeup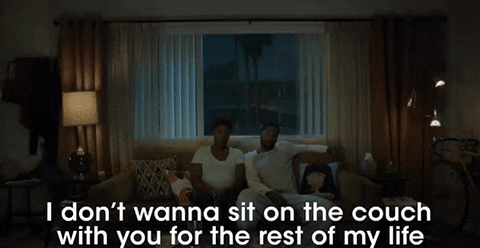 Issa's chance meeting with her sexy ex Daniel ended awkwardly. They kissed but Daniel made it clear he's not looking for anything serious, ie: he isn't ready to settle down.
Lawrence comes to terms with possibly having to take a lower-paying job while Issa struggles at work to organize a beach clean-up day for the children. Issa and Lawrence endure a short drought but eventually come out of their rough patch and enjoy each other's company while couch shopping.
Then Daniel shows up and wrecks havoc again. He makes an impromptu appearance at Issa's job to apologize for their last encounter and Issa invites him to speak at their upcoming career day. Big mistake. Issa and Daniel seem to connect on a deeper level. Their inner love for music and his striking features are hard to resist. Issa soon discovers her "Broken P*ssy" rap was uploaded to Youtube. Daniel knew a guy, who knew a guy and came to the rescue. Feeling vulnerable, Issa met up with Daniel at the studio, where he professed his love and they had passionate couch sex.
The Aftermath
While Issa was having an affair, another young woman caught Lawrence's eyes at the food court at work. He didn't pursue her, but she plays a key role in the season finale. Issa goes on with life pretending nothing happened while gearing up for her job's fundraiser.
Daniel, never the one to avoid awkwardly showing up at Issa's job, popped up to question Issa at the aforementioned event.
"I'm confused. Why you acting like it wasn't something?" he asks. "Why you been treating me like I'm some random ass n*gga?"
She replied, "You were just an itch I needed to scratch."
Issa broke it to him hard and Daniel walked off in an emotional tizzy, only to bump into Lawrence on the way out. Lawrence puts two and two together and confronts Issa at home.
"Did you f*ck him?" he asked. Issa could keep her infidelity a secret no more.
At this point, Issa's life is in shambles and even her friendship with Molly is suffering. Molly is having trouble hurdling the expectations she places on men and Issa makes it known how she feels about Molly's unattainable standards. Their falling out leads to silence until a girls trip reminds both of them of their sisterhood. Molly drives Issa home in an attempt to save her relationship with Lawrence. But instead, Issa returns home to an empty house and Lawrence has sex with the chick from the food court.
Season 2
Season 2 of Insecure picks up where we left off. Issa and Lawrence are still broken up and Issa is desperately trying to win him back. We recently caught up with Yvonne Orji, who plays Molly on 'Insecure,' and here's what she had to say about what to expect.
RELATED STORIES:
The Most Epic Quotes From 'Insecure' Season One
Summer Is Here! Our Predictions For Season 2 Of HBO's 'Insecure'