Taraji P. Henson, Octavia Spencer and Janelle Monae are the kind of women every girl wants as part of their squad. Not only are they absolutely beautiful, funny and extremely talented, the ladies also appear to be some of the most genuine folks in Hollywood.
After watching their incredible performance in Hidden Figures, which earned the trio an NAACP Image Awards nomination, we have been feeling so much girl-power from Taraji and her co-stars that we decided to round up the ultimate moments they were our friend in our head.
1. When Taraji P. Henson Supported Her Girl Regina King
At last year's Emmy Awards, Regina King took home the Best Supporting Actress award for her role in "American Crime," which caused Taraji to jump up and down with joy at her friend's success. It was the ultimate celebration of sisterhood and we have been more obsessed with her than ever since that moment.
2. When Taraji, Octavia & Janelle Treated Low-Income Families To Screenings Of Hidden Figures
The Hidden Figures stars treated low-income families to free screenings of the film with intentions on encouraging young women to explore their inner physicist. Spencer honored her mother, who she revealed wouldn't have been able to afford to take her to see a film like Hidden Figures when she was child, with the Baldwin hills event while her girls held it down in other markets.
3. When Janelle Monae Started A Chant At The Woman's March
Not only did Janelle Monae's riveting speech at the inaugural Woman's March receive a standing ovation, it led to the chant "Say Her Name." The artist, actress and activist encouraged women to embrace the "things that make you unique" and to never give up. "You must always remember to choose freedom over fear."
4. When Octavia Spencer Wore A Pantsuit On The Red Carpet
We could all understand where Octavia Spencer was coming from when she traded in her traditional gown for a pantsuit. It was sexy, strong and made a statement that women don't have to conform to societal rules. the Academy Award winning actress revealed to Ellen Degeneres that she was so comfortable at the Globes when she wore the tux. Talk about feminine prowess. She was even able to go commando!
I don't think I've ever been to an awards show and had as much fun as I did this time," she said. "Well, I chose to wear a tuxedo and in doing that, I was able to be freer. Less underwear. A lot less underwear."
5. When Taraji Revealed She's An "Around The Way Girl"
The title of her memoir says it all. In her book, the Golden-Globe winning actress got real about making her dreams come true and all of the stumbles along the way. It's refreshing to hear a woman of her success level talk about what it took for her to make it. And on that note…
6. They're Telling Stories About Black Women
While on the red carpet for the NYC premiere of Hidden Figures, Octavia Spencer and Janelle Monae opened up about the film's importance and why, not only young Black girls need to see it, but why it's essential to American history.
'It's time we celebrated those true American heroes like Mary, Katherine and Dororthy and all the colored people who were human computers who get our Americans into space,' Janelle said.
7. They Aren't Afraid To Take A Stand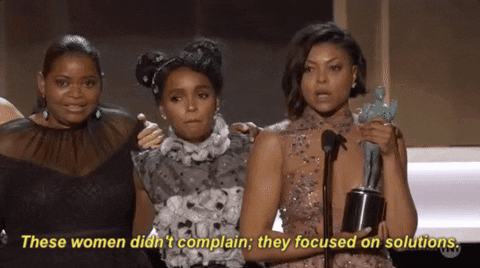 Perhaps our favorite moment from Taraji, Octavia and Janelle came when they won a SAG Award for "Best Outstanding Performance by a Cast in a Motion Picture."
Taraji spoke for her cast mates when she spoke out in support of those affected by Trump's Muslim Ban or when she checks those who don't uplift marginalized people.
The women constantly prove how woke and proud they are about social issues, as well as how they won't stand for someone coming for one of their sisters. Those are the kinds of friend we ALL need.
DON'T MISS:
GET THE LOOK: Taraji P. Henson's Upscale Undercut Hairstyle At The 2017 SAG Awards
2017 SAG Awards Recap: Mahershala Ali, 'Fences' & 'Hidden Figures' Win Big
More from Hello Beautiful