LIKE HelloBeautiful On Facebook!
1. Ha Ha Hell
Betty White will and can laugh in your face.
2. Betty Gettin' Her Dance On
Back back back it up!
3. Betty Kisses Betty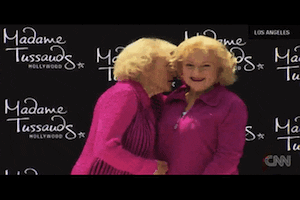 Betty's forever immortalized and she loves it.
4. Betty Gets Tackled
And takes it like a man.
5. Betty Doesn't Care. No Really.
Now, who is the "Honey Badger?"
6. What Betty WON'T Do
Words to live by.
7. Follow Her…

NOW!