LIKE HelloBeautiful On Facebook!
1. Happy Birthday Tyra Banks!
Can you believe Tyra Banks is 40 years old?! My goodness, where's my moisturizer?!
Everything about this woman is epic. From her killer walk to her enviable body to her I-can't-believe-this-is-real "smize," Tyra Banks gives me life.
In order to properly celebrate Tyra's 40th bday milestone, I am serving you 40 of her best GIFS ever. There will be a runway walk, "smize" and a signature Tyra blowup. Enjoy!
2. Tyra's The Woman Of Many Faces
So what does this one say?
3. Tyra's Real Life Photo
Watch closely and you can see her earrings move.
4. FIERCE!
Miss Tyra serves fierce like a drag queen hunty.
5. If Tyra Put You Under A Spell…
What would you do?
6. Hey Tyra, Are You Happy To Be 40?
Oh.
7. Tyra Does Not Approve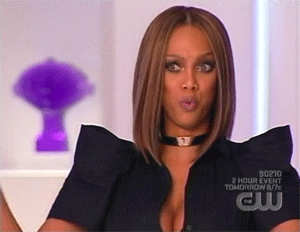 So get your life together.
8. Word Of Advice From Tyra
Keep your eyes on the prize!
9. No Really…
Keep your eyes on that damn prize!
10. All My Single Ladies!
Whoa uh ohhhh!