The votes are all in beauties!
Coconut oil glistening, fiyah bars spittin and fur coat clad zaddy Safaree Samuels is HelloBeautiful's sexiest man alive.
The rapper and reality star won this year's competition by a large margin, securing over 6,000 more votes than last year's winner and this year's runner up, Kofi Siriboe.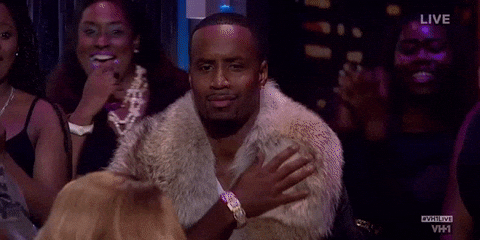 2017 was a breakout year for the Brooklyn born lyricist, as he broke out of the shadow of his ex and stepped into his own shiny spotlight. The 36-year-old went bi-coastal this year, starring on both the New York & Hollywood franchises of VH1's 'Love & Hip Hop.'
To wrap up his TV run, Safaree scored another role on 'Scared Famous,' completing a series of spooky challenges in an attempt to win $100,000 for his charity.
The proud Jamaican and entreprenuer  also launched his own line of coconut oil, bottling up the secret to his signature glowing melanin.
While conquering the TV and moisturization industries, the bod mon came back to his first love, music, releasing his EP 'Fur Coat Vol 1.'
The video for the lead single, "Paradise," has amassed over one million views on YouTube.
With TV, music, and his entrepreneurial game on lock, Safaree fans can expect to see much more of the chocolate king in 2018.
We reached out to Safaree who had these words for his supporters:
I would like to thank God, my mom and all the beautiful women who voted for me..  This is a great way to end 2017 and begin 2018. They used to always say, "Safaree you'll never have your own identity, give it up…" and this proves them wrong. It is a great feeling and proof that consistency and perseverance will always have you 1 step closer to your dream! Thank you. Sincerely yours – the sexiest man alive … STRAAIIIIIITTTTTTT" – Safaree Samuels
RELATED LINKS
Tea Talk: Safaree Brings Exclusive Clip From New Show 'Scared Famous'
'LHHNYS8' Recap: Safaree Gets The Chance To Win Juju Over
'LHHNYS8' Recap: Safaree Faces A Devastating Loss
HelloBeautiful Radio
Our staff has picked their favorite stations, take a listen...
Also On HelloBeautiful: