Name a more iconic duo than Tami Roman and Evelyn Lozada. Go ahead. We'll wait. Tami and Evelyn kept us entertained for seasons on VH1's Basketball Wives and now they're back on the court for another round.
But before the premiere on April 17 at 9/8c, let's take a trip down memory lane.
The Calm Before The Storm
It's hard to believe Tami and Evelyn were once friends. While the ladies didn't have a camaraderie before being cast on Basketball Wives, Tami and Ev built a relationship during the filming of season two.
'I felt like Evelyn and I had been around each other for six months of taping. We had shared a lot of moments, a lot of private situations," Tami revealed in a VH1 interview.
However, that would soon change when certain information was divulged.
The Birth Of "Non-Motherfucking Factor"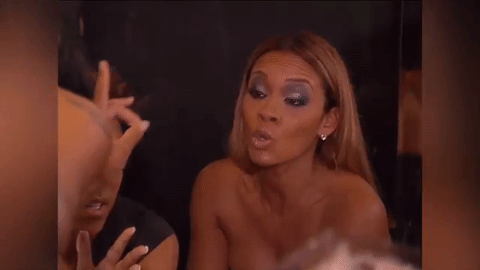 Tami and Evelyn's friendship came to a screeching halt when Evelyn revealed she had slept with Tami's ex-husband Kenny Anderson. After an intense argument, Ev hit Tami with the phrase heard 'round the Internet, "You were a non mother*cking factor," which led to Tami popping Ev straight in the face. Cigarette included.
The Reunion
Fast-forward to the Basketball Wives reunion, when Tami and Ev came face-to-face after Tami's cigarette-break gone wrong. They kept it cordial (as in, punches weren't thrown) but Tami did play a petty card and claimed she had sex with Ev's then-boo Chad Ochocinco. Tami was clearly joking, but it served its purpose. Well-played.
Evelyn Makes A Profit
The drama continued on season three of Basketball Wives, when Evelyn turned the viral "You're a non-motherf*cking factor" into a profit. Being the business woman she is, Tami showed up to Evelyn's shoe store, Dulce, and demanded she be cut a margin of the profits since, ya know, she's about that coin. Shirts were thrown and shoes were displaced, but fists didn't fly and that was a good thing.
Put Your Hand Up Again
Tension between Tami and Ev carried over into season five until it eventually boiled over at a group dinner. Evelyn made an arguably-shady comment, which Tami took to heart and drama ensued. After snatching a knife out of Evelyn's hand, for precaution, Tami continued to press Ev.
Ev, who had been trying to mature, didn't feed into Tami and gave her the hand, which angered Tami even more. Luckily, no one was harmed, but a valuable lesson was learned that night: Don't put your hands in Tami's face.
Ever.
Ain't No Friendship Bih
Tami and Evelyn were both vocal about their failed friendship. In a 2015 interview with VH1, Tami revealed there is still bad blood between them. "She's mad at me and I had no idea. I would like for her to pick up the phone and call me and let me know what it's about."
Guess we'll just have to find out when the cameras start rolling. Catch the premiere of Basketball Wives on April 17 at 9/8c on VH1.