Beyonce gazes off into the tall brown grass and mouths the words, "I'm praying to catch you whispering/ I'm praying you catch me listening." The lyrics hit me like an anvil smashing into Wile E. Coyote. I close the blinds and lean back on my headboard.
In another scene, she leans over the edge of the building and plunges to the ground that dissolves into a body of water leading to the next sequence. Damn Beyonce, I needed a warning.
Until its premiere Saturday night, we were unsure of what to expect from Beyonce's sixth album. Would it be another visual album like her previous release? Would Yonce make an appearance or would we meet another of Bey's alter egos? Yonce didn't make a cameo. Instead, we were introduced to Beyoncé Giselle Knowles-Carter, the woman who also has insecurities and thought about wearing another bitch's skin after her man cheated. Have you ever felt that low? If not, Lemonade ain't for you.
Beyonce reveals her ugly truth in Lemonade. Stunning and unprecedented, the visuals take her career and legacy to legendary status. She's reached deep into the roots of her womanhood– where we keep the pain locked away–and delivered an incredible ode to Black women that commands us to demand respect and believe in love all over again. In the circle of an hour, she twisted my body and made my tears flow like a saturated towel being squeezed dry. Only a woman who's gone through similar turmoil could produce an opus stemming from sincere betrayal. And for the incredulous ones, Jay Z and Beyonce may be cuddling right now, but there was a point, like any relationship, when they weren't and Lemonade is clearly all about it.
Entwined with the words of Somalian poet Warshan Shire, Lemonade takes form at the spark of female intuition. "Are you cheating on me?" Beyonce questions. In the film's most stunning scene, she's floating like a fetus in the womb. "I tried to changed. Closed my mouth more. Tried to be softer, prettier, less awake."
Coiled with nods to the Yoruba religion, Beyonce appears as Oshun– the goddess of love the next minute.
Lemonade transitions into "Hold Up," where she struts down the street bearing a sinister smile and bashing the windows out of cars until she's crushing metal beneath the wheels of her monster truck. The film's anger builds until it explodes on my "Don't Hurt Yourself." Her fur secured on her neck by a strap and corn rows touching the middle of her back, Bey bounces like Jay Z while furiously declaring "Who the fuck do you think I am? You ain't married to no basic bitch boy."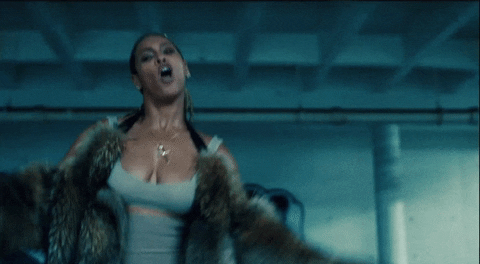 The scene almost resembles Fight Club. She moves like a boxer dodging punches as she sings "You can watch my fat ass twist boy, as I bounce to the next dick boy." By the time she reached the line, "tonight I'm fucking up all your shit boy," I was screaming. I mean, jumping up and down screaming, 'Bitch yasss.'
She tosses her ring at the camera, delivering the final blow. "If you try this shit again, you gon' lose your wife."
I too have felt the sting of mistrust after finding out about my spouse's infidelity. The all too familiar feeling of betrayal, denial and anger came rushing back to me, flooding my soul with resentment. I didn't know these feelings were so universal.
Bey finds peace on "Sorry." She's smiling, surrounded by women decorated with intricate body paint. Having ridden off her cheating husband (presumably Jay Z), she seals their separation with the controversial line 'You better call Becky with the good hair."
Insert Rachel Roy, who reportedly posted then deleted an Instagram post that read, "Good hair don't care, but we will take good lighting, for selves, or self truths, always. live in the light #nodramaqueens." Drives by Macys and splashes Simply Lemonade on her collection.
I recently went through an intense breakup with my own Sagittarius. At night, I'd binge drink then cry myself to sleep, hoping the grief and confusion would be numbed by feeling paralyzed. In that moment, like the woman she's singing about on "Six Inch Heels," I pushed forward despite the pain–masking my insecurities with mascara and fake smiles. It was a moment of clarity that proved to be a transitional point in my life. A point where many women have been.
"Six inch heels, she walked in the club like nobody's business Goddamn, she murdered everybody and I was her witness." Alone, to my thoughts, I became stronger. Confident. Sexier.
But like Beyonce, I yearned for him to "come back." I talked to the pillow where he used to rest his head beside me. I lived off memories of us making love during happier times and longed to prove myself. I longed to give it one more chance.
I wasn't sure if I was supposed to be as emotional as I was watching Lemonade. Was I really fighting back tears or was I suffering from Beyhive syndrome? What was happening?
Upon first listen, Lemonade appears to be an angry anthem about dumping no-good men, but after the sexy "Six Inch Heels," the film does a 360. Beyonce goes country on "Daddy Lessons" and that's when I broke the fuck down. Stereotypes lead us to believe it's only the girls without fathers who suffer worst with men. But seeing Beyonce's trouble led me to realize everyone has "daddy issues." Whether they were in your life or not, they are the first depictions of men we see. Go figure, I've been dating a man just like him for the last 11 years. Does this mean I'm just like my mother? Shit Bey. Too real for prime time.
Sisterhood is the underlying theme of Lemonade and it comes full circle as Beyonce undergoes a restoration. Like Bey, I found strength in my girlfriends, who comforted me at my lowest point. Thank you ladies. There's such power in sisterhood. This must be what she meant when she told us to get in "Formation."
"Love Drought" feels the rainbow after a rainstorm. "You and me can move a mountain," she sings. Suddenly, Lemonade becomes a disc about hope. "You and me could make it rain now/You and me could stop this love drought."
Love and restoration reaches its pinnacle on "Sandcastles" followed by "Forward." "What is it about you that I can't erase, baby," she begs. Like Bey, I'm still searching for that answer. But it makes me feel one million times better knowing I'm not the only stupid chick who took a man back who did her wrong.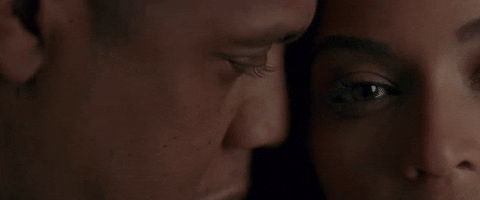 Jay Z makes a humanizing cameo in this section. He kisses her feet. Kisses her forehead. "Show me your scars, and I won't walk away." That's when it became clearer than Blue Ivy's skin, Beyonce is just like me. Just like you.
There's much to be said about Black women and how hard we love. My coworker felt sad after watching Lemonade. She said she felt unsettled, unresolved. It's true. As Black women particularly, we go through so much, go so hard and have such forgiving hearts. We ride out for our men and show empathy and understanding when society has proven Black women are afterthoughts. Kudos to Bey for also addressing the abandonment of the Black woman. We probably do stick around too long, deal with too much. Cry too often. But each woman has her own breaking point. So no, don't stay with a man who repeatedly does you wrong and when you reach the point of return, there won't be anything that will make you stay. But for the women who have gone back, Lemonade is the sweet drink after a long, hard day. Shit, we're all human.
Unlike my colleague, I felt relief after watching Lemonade. Not even the most beautiful woman in the world is exempt from self-esteem issues, being cheated on and suffering through unbearable embarrassment. Yet, we always make it. Even when happiness is unthinkable, Black women, we go on. Lemonade is a testament to the strength of Black women and Black love.
Many of us come from broken homes, impoverished settings with limited access to education. While this is no excuse for wrong doing, the bruises of institutional racism are real. Lemonade promotes forgiveness and the strengthening of Black families.
The Lemonade experience culminates on the Kendrick Lamar-assisted "Freedom." Generations of women, including the mothers of slain Black men Trayvon Martin, Eric Garner and Mike Brown, comfort each other. I cried again.
Lemonade took me (and many women I know) on an emotional journey. I didn't think it was possible for Beyonce to out Beyonce herself, but I'm in awe of her vulnerability. I feel like she stole my diary and made it into a motion picture. Men please take note.
There's no way anyone could convince me Beyonce didn't go through being cheated on and that Jay Z didn't break her heart and put it back together again. Love isn't so black and white. While Bey may have gone back to the man who "killed" her, it's her ugly truth. In the words of Bey, "every promise don't work out that way."
Despite his alleged infidelities, I think Jay loves Beyonce deeply and it's evident by his full venerability in Lemonade. We've never seen him so stripped down — so, dare I say it, regular.
I Imagine Lemonade was equally as therapeutic and fufilling to Beyonce as it was for Black women everywhere. She's finally connected with her female fans on the deepest level and we will always be loyal to the queen Bey for creating a beautiful body of work that expresses our pain.
Furthermore, don't be the nigga who lost Beyonce.
RELATED STORIES:
Slay! Twitter Loses Its Mind Over Beyoncé's 'Lemonade'
The Internet Hilariously Reacts To Beyonce's #Lemonade
10 Things You Should Know About Beyoncé's 'Lemonade'