This all started when my Editorial Director, Leigh Davenport shared a story about when she complimented an exceptionally beautiful woman at a party and received the type of reaction that would have been appropriate after an insult. The beautiful girl scolded Leigh about her snarky delivery and went on for the remainder of the night to express what can only be affectionately named, "Pretty Girl Problems."
Must Read: R&B DIVAS:  Personality Quiz – WHICH DIVA ARE YOU?
You know these problems–men don't approach me, no one takes me seriously, or my favorite–I am more than just my looks. While many of these pretty girls certainly have a point in sharing their laments, that doesn't negate that nine times out of 10, we're not here for their complaints. Check out the rest of the things no one wants to hear pretty girls say, ever.
1. I Only Have Guy Friends
Pretty girls don't hang out with girls because we're too busy hating on how beautiful they are. So they're forced to hang out with men…your boyfriend, your brother, your dad–doesn't matter. As long as he's got a penis, he's her friend.
2. I'm Smart Too
We get it, pretty isn't only pretty. Sometimes, pretty girls are also smart. It's very rare, but it happens.
 3. People Think I Don't Have Feelings

Maybe it's because pretty girls have permanent b*tch face that people think they don't have feelings. Or maybe it's because pretty people often disregard people's feelings because they're too busy being pretty.
4. I Have A Hard Time Meeting Guys
Guys are intimidated by beauty. Many of us would think that they're turned on by it–well they are. But there is a such thing as being TOO pretty and men don't want to approach the women who are way out of their league.
5. I Don't Have Many Girlfriends
Girls be hating. We don't know how to be friends with girls who are better looking than us, because…reasons.
6. Being A Model Is Hard
Most pretty women are models. And we all know how hard it is to stand there and pose and not eat and pose some more.
7. Pretty Hurts
Ouch. Can't you see how painful it is to be this pretty.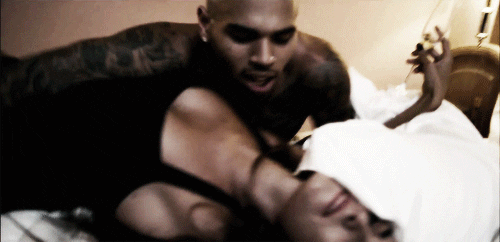 8. Chris Brown? Oh Yeah, We Dated…

Pretty girls always have close personal relationships with celebrities. If I ever hear any more of them claiming to have dated a celebrity, I am going to scream!
9. Guys Are Intimidated By Me
Men are afraid of pretty girls and that's the law. I mean, their looks are so paralyzing, it makes it hard to live.
10. OMG I'm So Hungry!
Pretty girls don't eat. They've got to maintain their abs.
11. Why Did God Give Me This Talent?
Beyonce said this specifically and the world said, "Shutup."
12. No One Takes Me Seriously
You're pretty, we just want to look at you. Case in point: Stacey Dash.
13. I Can't Eat That By Myself, Let's Split It
Pretty girls always have a diet to maintain and when they want to have a cheat meal or day, they want to share it with their friends.
RELATED STORIES:
5 Makeup Brushes Every Pretty Girl Should Own
BEAUTIFUL NEWS: 'Pretty. Period.' Website Celebrates The Beauty Of Black Women
TOO CUTE! Sisters Chloe & Halle Bailey Cover Beyonce's "Pretty Hurts"
Check Out This Gallery Of Problems Only Busty Women Understand:
20 photos
Launch gallery
1 of 20
1. D Cups & Up, You Get It, Right?
Having large breasts isn't all what it's cracked up to be. While we look awesome most of the time and our full busts often gain the attention of many, there's so many problems women with big breasts have. So many. Check out these problems that only busty women understand.
2 of 20
2. Finding A Bra
This is just hard. There's nothing else to say but Lord Jesus be a bra that fits PROPERLY!
3 of 20
3. Adjusting Yourself Always Looks Like An Invite...Or Porn
When you're busty, there are several times throughout the day where you need to adjust. Sometimes that adjustment looks like flirtation...or porn. All we want to do is make sure our nipples aren't cockeyed.
4 of 20
4. Victoria Is Keeping A Secret From You
The saddest thing in the world is that one of the most well-known sassy bra makers in the world doesn't carry your size, so you're forced to buy bras that come in boxes. Yes, boxes.
5 of 20
5. Baby Magnet
Babies light up when they catch a glimpse of your full milk jugs. You end up being the jerk that has to either ignore them, or pick them up and explain that your jugs are empty.
6 of 20
6. Sweatshirts Make You Look Fat
The sweatshirt trend was huge this past winter and speaking of huge...if your boobs are huge, you will look huge in a sweatshirt.
7 of 20
7. Strapless Bras
These things are your worst nightmare. Many of them seem to work when you first try them on, but when you go to actually wear it for your strapless dress, you quickly notice that your strapless bra is pointless and stupid and should die 1,000 deaths.
8 of 20
8. Sleeping Is A Fete
Tossing and turning is always the name of the game as you try to get your boobs in a comfy spot. On your tummy? Your boobs are trying to choke you. On your side? On you back? Yur boobs hide in your armpit.
9 of 20
9. Suspenders?
Girl...BYE! You cannot wear those straps over your chest because...well, you just can't. They'll slide to the sides anyways.
10 of 20
10. You Need More Fabric
Many of your shirts fit everywhere, except your chest and you end up needing more fabric. Or you can always conveniently cut a slit into your shirt and appear more classy than ever.
11 of 20
11. Nothing Is More Important Than This Moment
You've thought about it since you left your house in the morning. Taking off that contraption that digs into your shoulders and back fat is the single most important moment of your day. I know, I know...every girl can't wait to take off their bra, but when you're busty, it's the most important thing ever in your life. Ever.
12 of 20
12. Button Up Shirts Are The Devil
There is not a button up shirt in the world that fits a busy gal. Not a one. Unless of course you get one 2 sizes too big and that ain't cute.
13 of 20
13. Safety [NSFW]
We constantly compromise our own safety because the seat belt isn't designed for us. It always slides either under or on top of our hefty racks.
14 of 20
14. Spillage
You will always spill something on the front of your shirt. So you'll never successfully wear white, ever.
15 of 20
15. Bikinis Make You Look...Well, Slutty
Seriously. Bikinis are everything, but when us busty girls decide to put one on, we're automatically looked at as if we're easy. No fair!
16 of 20
16. Yoga Isn't Your Friend
Certain yoga positions don't lend themselves to the restrictions of tig ol' bitties. Be careful ladies, because some of those bendy yoga positions are trying to kill you.
17 of 20
17. Running
You almost always need to grab your boobs in order to effectively run. I'm not talking about at the gym, because hopefully your 3 sports bras are doing their job. I'm talking about running to catch a bus, make it across the street for the light or if you see someone you haven't seen in years and you're trying to catch them. We have to hold them down!
18 of 20
18. Shaking Things
There's no way you can shake anything without putting on a show. SMH. So, most times, we avoid juice. Those "Shake Well" messages give us anxiety.
19 of 20
19. People Assume They're Fake
Big breasts do not always mean we've gone under the knife. Stop asking, "Are those yours?"
20 of 20
20. Back Pain
Back pain is so real when your jugs are heavy. Please know that 9 times out of 10, we're in pain.